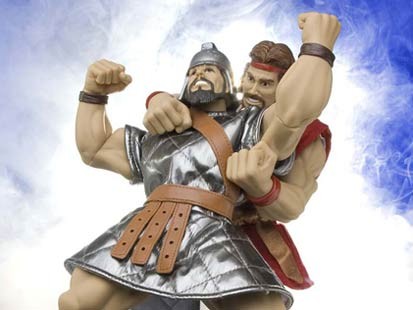 "With Tales of Glory Spirit Warrior Action Figures children can bring the greatest stories of the Bible to life. Each 13" action figure comes with a mini-storybook. Spirit Warriors are big tough toys that boys will love to play with. Add a Tales of Glory Play-m
at to Spirit Warrior action figures and watch your child's imagination soar. "
<----Esther
"Early next month, 425 Wal-Mart stores nationwide will begin carrying faith-based toys from One2believe that target parents who would rather that their kids play with a Samson action figure than a Spider-Man action figure.
And, just like that... the little boys next door become Rod and Todd Flanders. "I want to play Daniel in the lion's den... or, we can just cure the lepers."
The toys are based on biblical stories. For example, there's a set of 3-inch figures based on Daniel in the lion's den for about $7. A 12-inch talking Jesus doll is about $15. And 14-inch Samson or Goliath action figures are about $20.
Fleecing of the faithful....excellent.
The toys target kids from pre-school to age 12, he says, and also are sold online at one2believe.com.
Since 9/11, there's been a surge in faith-based products, says Bob Starnes, vice president of licensing at Big Idea, the firm behind VeggieTales. That's because most Americans have a "faith perspective," he says.
I love the last minute reference to 9/11. ?? WTF?? Yes. I'm sure when the jihadists flew into the WTC, they said..."Hahaha!! This will stop the Christians from having fun and making cheap plastic toys."
We all know that there will be a set for "Daniel and the Lion". I'm guessing there will be a "Joseph, Mary, Donkey" set near
Christmas time. They'll most likely be a "Twelve Apostles Action Kit". But... what else?
"Crucified Jesus", complete with little katsup packets of fake blood, crown of thorns, and cross. Wailing Marys sold seperately.
Which tales would you like to see? I would like to see the following biblical stories/passages put into cute, little Christian toys.
Because God liked Abel's animal sacrifice more than Cain's vegetables, Cain kills his brother Abel in a fit of religious jealousy.
4:8
God kills everyone (men, women, children, infants, newborns) in Sodom and Gomorrah by raining "fire and brimstone from the Lord out of heaven." Well, almost everyone -- he spares the "just and righteous" Lot and his family.
19:24
- It just wouldn't be right with Sodom and Gomorrah toys.
If an ox gores a slave, the owner of the ox must pay the owner of the slave 30 shekels of silver, and "the ox shall be stoned."
21:32
- I'm guessing you'd have to provide your own stones.
After a woman gives birth, a priest must kill a lamb, pigeon, or dove as a sin offering. This is because having children is sinful and God likes it when things are killed for him.
12:6-8
-
PETA is going to be pissed.
A priest's daughter who "plays the whore" is to be burned to death.
21:9
- I really hope they label this one as 10 and up...matches and all.
Jesus sends devils into 2000 pigs, causing them to jump off a cliff and be drowned in the sea. When the people hear about it, they beg Jesus to leave.
5:12-13
- Ooooh, that Jesus! What a funny guy.
Jesus criticizes the Jews for not killing their disobedient children as required by Old Testament law. (See
Ex.21:15
,
Lev.20:9
,
Dt.21:18-21
)
7:9-10
- This set comes with six 2" "children" to be crushed by their parents.
Edited to add: I see
PZ Meyers
got it posted before I did. :)